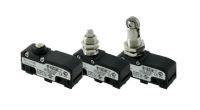 Product Spotlight
Micro Switches
The IMO MK micro switch series offer innovative features that can provide a higher number of solutions when compared with similar devices that are currently available in the market.
Leading the way, the IMO MK range have new double contacts which offer a much higher reliability factor than existing single contact micro switches. The NC contact versions include a "positive break" feature for use in safety critical applications, whilst the housing design allows for the addition of a cover to improve IP ratings up to IP65, in accordance with EN 60529.
A wide range of cable diameters can be accommodated due to IMO's practical screw terminal design, and the entire range is also available with Fast-On terminals, and with a choice of three different terminal exit angles, making them the micro switch of choice!
IMO MK micro switches can also be supplied with an extended temperature range (on request). The standard MK micro switches have a temperature range of -25°C ~ +85 °C (-13F~185F), which can be extended to -40°C ~ +85 °C (-40F~185F), making them ideal for use inside cold stores, sterilizers or other equipment using very low ambient temperatures. Special materials have been used to realize these special versions which allow the specifications and features to remain unchanged under these conditions, thereby widening the installation possibilities.
All IMO MK micro switches that display the symbol

beside the part number, are supplied with a positive opening mechanism, making them suitable for safety applications. As such, they are provided with a rigid connections between the actuator and the NC contacts. The positive opening mechanism conforms to the IEC 60947-5-1 standard, and as such, the IMO MK micro switches are also suitable for installation in protection applications.
Available in 47 different actuator types, 4 terminal types, 13 versions of terminal covers (including wire trap cable gland types), with actuation frequency of up to 3600 operation cycles, UL approvals and protection degree IP20, IP40 or IP65.
Click here to visit the product page