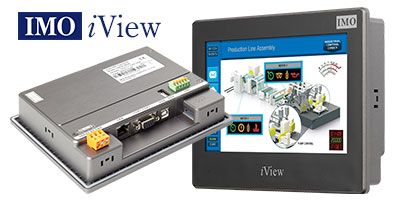 Product Spotlight
Industrial Control Direct (ICD) is always in search of new and outsanding quality products. The iView from IMO Precision Controls (IMO) is a sure winner and compare advantageously to other existing models on the market. Don't fall for cheaper version. On a long run iView will provide functionnability, endurance and reliability.
IMO's advanced iView HMI controllers lead the way in today's automation environment. See the difference with 5 screen size options from the compact 4.3" to the impressive15.0" model. All screens offer 65k high resolution colour resistive touch LCD TFT functionality, operating on an ARM based processor, and each model within the range offer an array of communications ports including two USB, one Ethernet, three serial, and also a MicroSD slot capable of accepting up to 16Gb of data storage.
Apart from the stagerring hardware features, the iView HMI comes supplied with over 380 industry protocols as standard, including Ethernet/IP, Modbus, Profibus and Profinet to mention just a few. IMO also offer an easy-to-use integrated development tool - the iView Developer - which features solution-oriented screen objects, high-end vector graphics, recipes, data loggers, as well as the ability to produce XY graphs, to set up time scheduling and alarm monitoring.
Already being used across a multitude of industry applications, the IMO iView has been optimized for implementation in Packaging Machinery, Pump Control, Water & Waste Treatment, Environmental Control, Building Management, Process Control, Motion Control, Food Processing and much much more.