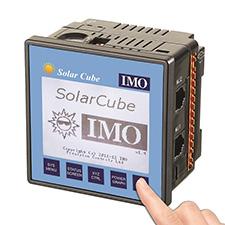 Product Spotlight
Solar Cube
You already know that solar panels are a great investment to save on energy costs and mitigate risks to the environment. You also know that achieving maximum solar energy conversion rates is a huge challenge facing solar installers today.

You might not know how much of a difference a solar tracker can make in reducing the cost of harvesting solar energy. The IMO solar cube is a great solution to improve productivity in your solar installations. See below for details:

What is the Solar Cube?
The IMO Solar Cube is an easy-to-use solar tracker and controller that allows you maximize solar energy conversion rates. The Solar Cube is available is one array or four array models and is single or two axis configurable.

Why use the Solar Cube?
Achieve optimum PV panel positioning

Easy array control (e.g. wash wipes, motors, emergency stop and alarms)

Automation of panel positioning

Remote monitoring access
Who needs a Solar Cube?
Those with large solar installations looking to maximize energy output by ensuring precise panel positioning throughout the day would benefit from the control capabilities of the Solar Cube. Also, anyone in states offering financial rewards for solar performance have a great incentive to invest in the Solar Cube.

What are the technical specifications?
3.5" Monochrome Touch Screen

Built-in sun positioning algorithm

3D Compass input for accurate positioning

Micro SD card for data logging

Error based adjustment with configurable error values for each axis

GPRS and Ethernet Remote Access options available
Click here to visit the product page