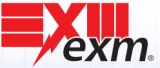 Eurobec Metal Ltd. was founded in 1975, by Maurizio Ciocca. The first factory was established in Lachute, Québec, about 35 miles north-west of Montreal, Canada.

Since its beginnings, EXM has been committed to research and development. In the late seventies, Eurobec introduced European-style deep drawn industrial enclosures on the Canadian market. The name "Eurobec" was derived from the words "Europe" and "Quebec", as the company was manufacturing European-style enclosures in Quebec.

The enclosures were manufactured by pressing high quality steel into a mould to form a box. This process eliminated welding distortion and produced a rigid enclosure of uniform and pleasant appearance.

In 1985, Eurobec opened a second factory in Mississauga, ON. This allowed the company to broaden its market base in Eastern Canada. Eurobec had become a leader in the Canadian industrial and commercial enclosure market.
Eurobec moved its installations to two new fully automated manufacturing facilities in Blainville, QC and Mississauga, ON, in 1992. The company also changed its name to "EXM". The new name reflected EXM's intentions to export its enclosures to the United States.
In the nineties, EXM acquired new automated machinery which allowed the production of a new generation of quality industrial enclosures, namely the 5412 ES and 5412 ESCH series. These boxes featured significant advantages, which were and are still unparalleled in the industry.

EXM innovated by introducing enclosures with flange-mounted quarter-turn locks and heavy-duty die cast hinges. EXM is also the only major Canadian enclosure manufacturer to use poured-in-place gaskets.