3 Steps to Purchase Parts More Effectively
published 2015-06-22
Take advantage of distributors' strengths to save time and money
As technologies advance and innovative products offer time-saving advantages for engineers, equipment costs represent a rising share of companies' budgets. There are tons of great products out there that help engineers save time, ensure reliability and promote safety, but managing the costs of this equipment can sometimes lead to greater inefficiencies.
Struggling to ensure all the parts you need are in your hands when a job starts can be difficult depending on your equipment purchasing process. Working with a disjointed chain of suppliers can not only cause a massive headache, but can also increase the odds of a mishap in ordering or shipping. Similarly, when dealing with large corporations, mountainous procedures and inattentive sales departments can kill the efficiency of your projects. These issues can ultimately lead to sneaky losses for your business.
1. IDENTIFY YOUR PROBLEM
It is no secret that selecting the right components is one of the most important tasks in any project. Issues in this process can lead to losses for yourself and/or customers in terms of money, time and production. Let's take a look at a few common equipment purchasing scenarios that can lead to massive inefficiency. Consider the following scenarios:
Company A: Purchases AC drives from a company he has worked with for years. Purchases enclosures direct from the manufacturer because they offer a discount for making regular purchases. Purchases electrical components like circuit breakers, contactors and power supplies from an online supplier where he believes he has found a decent price.
Company B: Gives himself a two-week window when quoting timelines for customers just in case the equipment doesn't come in on time. Fears he may be losing out on customers because his timelines are too long.
Company C: Suspects he is overpaying for much of the equipment he is using, but is unaware of any ways to minimize his equipment costs.
In each scenario, the current purchasing strategy leaves room for improvement. Company A may be getting decent pricing, but likely spends too much time juggling supplier invoices, payments and shipping logistics. Company B might be losing business because his process is slowed down by unpredictable equipment deliveries. Company C might not see any immediate losses, but will probably be shocked when he realizes how equipment costs are eating up profits.
2. DISCOVER THE SOLUTION
Overcoming these lurking challenges can be a game-changing solution for your business. Forward-thinking project managers and purchasers are doing so by rethinking their sourcing strategies. Working with a smaller, customer-centric distributor that offers a complete range of equipment can cause enormous benefits.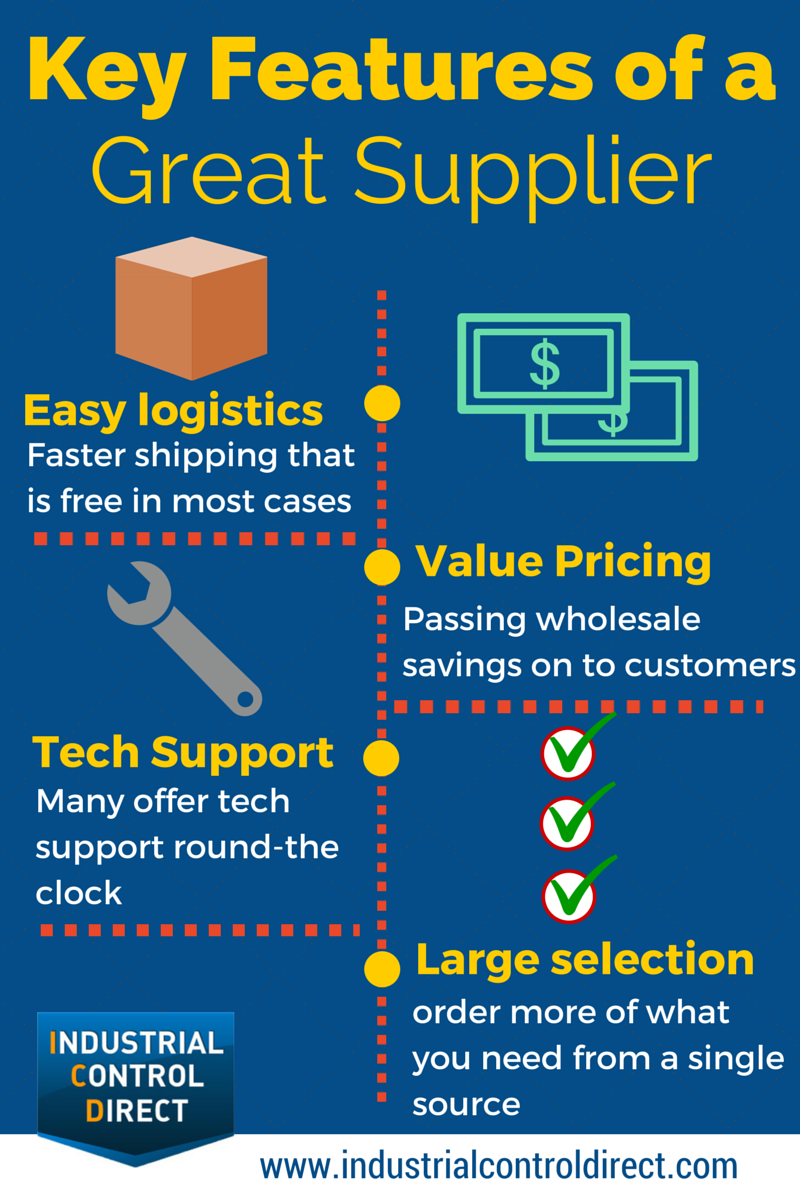 Changing how you source your industrial equipment offers benefits beyond material cost reduction and saving time. Built-in advantages make smaller, more complete suppliers an invaluable source for filling gaps in your project timeline.
Save more than time and money
Utilize your supplier's online storefront to monitor their inventory. For instance, our online store is easy-to-navigate and allows you to see what products are in stock. This helps you save time and see what's in inventory without having to pick up the phone and speak to a salesperson.
Value-added services can also make a huge difference in your business. Here at Industrial Control Direct, we offer a range of services to help our customers fill gaps in their capabilities. Need custom terminal block marking or assembly? Perhaps you lack the capacity to cut DIN rails or wiring ducts in-house? Imagine the time you might save that you can appropriate elsewhere to grow your customer base, hire new employees or buy new machinery.
Overcome barriers and resistance
It may be difficult to justify changing the way you procure your equipment, yet smaller vendors like us offer value-added services to make change management much easier on you and your employees.
Finding a company that offers suitable duplicates for the equipment you already use may be your first barrier. We easily provide cross-references for our customers between our products and products they have used in the past. This service is crucial in helping customers secure good product quality while still achieving cost saving goals.
Committing to using a new product you may not be familiar with can pose another barrier. However, depending on the volume of which you might purchase, you can request a sample or loner of a certain product. We work with our customers and in certain cases provide products to test for a predetermined period of time. This makes your job easier when liaising between the supplier and your internal engineers, operators and customers.
Anyone involved in industrial equipment purchasing that is serious about optimizing their long-range strategic sourcing plan must consider making the switch to a more service-based supplier. When working with a smaller supplier like us, it is easier to leverage your relationships and secure valuable benefits for your company. This is a smart industrial purchasing trend helping companies grow their profits and answer the call for budgeting and cost controls.
3. TAKE ACTION
Now you know how purchasing more of your products from a smaller source can drastically increase your productivity. It is time to take a look at your equipment procurement strategy and identify areas needing improvement.
You usually wind up purchasing from companies with which you have a great personal relationship. This is something to keep in mind when deciding the best way to source equipment for your company. Personal, accessible service is much more likely to come from a company that is smaller, more focused and better willing to help you meet your needs.
Are you ready to save valuable resources like time and money? Submit a quote request today to find if we can help you optimize your equipment purchasing process and save 30 – 40% on industrial control parts.

Not ready to buy just yet? Explore our online catalog to discover our complete range of industrial control solutions.