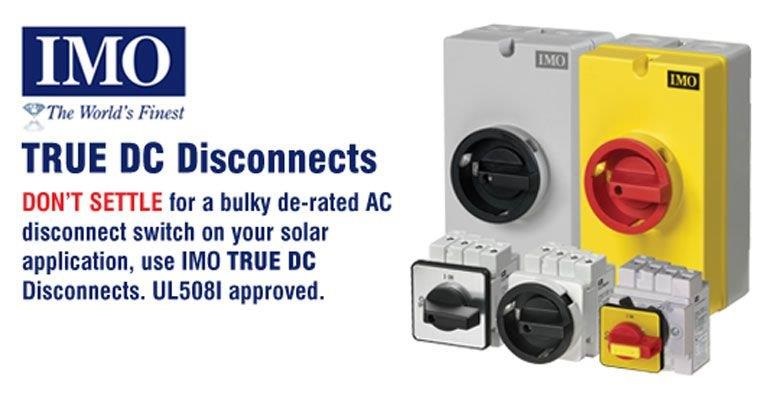 Two Million installed units – ZERO FAILURES.
In a solar installation, the DC isolator is like the air-bag in your car. You never really know it works until you need it. IMO Solar Isolators (DC Disconnect Switches) have surpassed two million installed units without a single recorded failure.
IMO DC Disconnect Switches are specifically designed to interrupt the DC/AC inverter from the solar panel array. In accordance with IEC 60364-7-712, photovoltaic installations must be equipped with DC Isolators.
The IMO range of Solar Isolators feature:
Operator independent trigger ratchet switching mechanism resulting in switching times of less than 5mS
High reliability knife edge contacts and long arc cooling chambers to ensure safe isolation of DC voltages
Additional security with IMO's patented "Safelock" function
Available in 2 to 8 pole versions and in a wide variety of mounting and handle configurations, the IMO Solar Isolator range is suitable for most OEM or site installation applications.
These switches have been tested by the most rigorous examiners in the world and carry the following approvals: UL508i, TUV (60947-1 & 60947-3), CE and CCC.
We also offer other solar pv installation components including ASA plastic din rail enclosures, solar connectors and the IMO Solar Cube.
Don't risk safety. See why the IMO SI True DC Isolator is the sensible choice and KEEP SOLAR SAFE.