The industrial makerspace - innovation through usefulness
DIN Terminal Block
Screw Clamp Terminals (ER)
The ER Series of feed−through screw clamp terminals. Here the range expands to include earth terminals, high current terminals, multi−deck terminals, sensor terminals, disconnect terminals, fuse terminals, distribution terminals and test/disconnect terminals, and all are easy to use, robust and reliable − exactly what you would expect from an IMO product.
770-274-3088
sales@industrialcontroldirect.com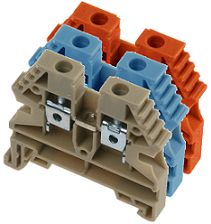 ICD offers preferred pricing to volume OEMs, panel builders or end users.
Learn more