Product Description
iView HMI, 15in. screen, 65535 colors, TFT LCD Touch Screen, 3 Serial Ports, Lan, Micro-SD, 2 USB, Ethernet, Aluminum Bezel, IP66, UL, CUL, CE, Free Software
Technical Info
Specifications
iView
View the difference with IMO's new range of advanced HMI controllers.
Industrial Control Direct is delighted to introduce to you, the touch screen IMO iView HMI – a cost effective series of HMIs with a spectacular array of standard features, all specifically designed for today's automation environment.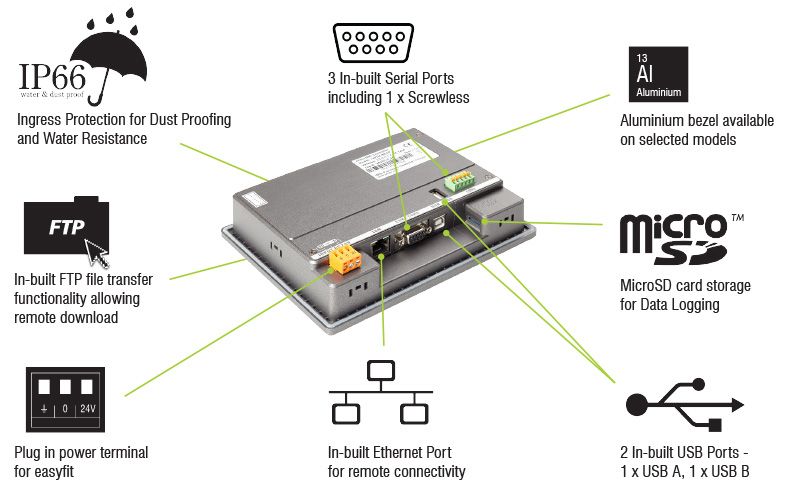 Two IMO iView ranges are available: The M Series model for medium range applications and the H Series model with higher capability for demanding applications. All IMO iView's offer clear high resolution 65K color resistive touch LCD TFT screens operating on an ARM based Processor, plus a range of communications ports enabling easy data logging amongst other features. Available ports include: 2x USB, 1x Ethernet, 3x serial and a Micro SD up to 16GB. These features make it possible to connect to keyboards or a mouse, printers and also data storage on a Micro SD card or USB Hard Drive.
Each IMO iView HMI is packed with many features that would allow remote connectivity via Ethernet protocols (Modbus TCP/IP, BACnet/IP, Profinet/IP), Serial protocols (including Modbus RTU, BACnet, Siemens MPI), as well as via VNC server.
The easy-to-use integrated development tool - iView Developer - features solution-oriented screen objects, high-end vector graphics, and recipes, Windows fonts for multi-language applications, operation logging and data loggers. Other functions include Alarm Monitoring, Trending, XY Graph and Time Scheduling.
Leading the way, the IMO iView HMI has been optimized for implementation in Building Management, Pump Control, Motion Control, Packaging Machinery, Food Processing, Water & Waste Treatment, Custodial Vehicle Management, Environmental Control, dedicated Alarm Systems, Process Control and much, much more.
Click here to visit the product page
Model Number
Short Description
Sale Price
QTY
Stock Status
Lead Time
Specs

We're sorry. There are no products to list in this category.